The following is based upon "The Centennial Narration of the Tatura Presbyterian Charge 1882 – 1982" written by Grace Conley.
In 1977 a small group of Shepparton Presbyterians met together in faith and determination to regain the loss that they had suffered on Union. It was reported at the time that they were "an inspiration to us all."
There was an air of anticipation for those who shared the first service, after union, in the Guide Hall, on Sunday 26 June 1977.
The service was conducted by The Rev D.V. Morey.
Services continued and moved to a more suitable hall in the south of Shepparton.
Numbers increased, and on the 29th November 1977 a congregational meeting decided to form a congregation within the Tatura Parish and for the time being call themselves the Shepparton Presbyterian Church.
The new Tatura Regional Parish incorporated the congregations of Tatura, Girgarre East, Rushworth, Stanhope and Shepparton.
The Shepparton congregation was truly blessed by God and was able to move into their own church just 18 months after the first service in the Guide Hall. They had been able to purchase the Assembly of God church situated on the corner of Hayes and Leithen St in Shepparton for $45,000. At this time the name changed to St Stephens Presbyterian Church Shepparton.
The church was opened and dedicated to God in a service held on the 13 February 1979. At that same service a further two elders were elected being Robert Curran and Dorothy Gilmour. The other elders were Wally Hodgins and Clive Brown.
The Session and the congregation stepped out in faith and purchased a manse in Leithen Street across from the church. This property was rented out to help pay the costs of the purchase until such time it was required for use as a manse.
Upon the departure of the Rev Doug Morey in 1980 from the Regional Parish the Presbytery approved the division of the Regional Parish with Shepparton and Stanhope becoming a charge in their own right.
In 1983 the Shepparton Stanhope Parish was successful in obtaining an exit appointment from the Theological College. Ken Brown was appointed and was ordained into the Parish as its minister in 1983 and stayed until 1994.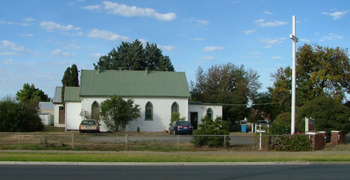 Rev John Sutherland faithfully preached the Word in the parish from 1995 until his retirement in 2000.
In 2002 the parish welcomed the Rev Kyung Ee to lead us. Since Kyung's arrival, Shepparton has continued to sustain steady growth under his sound preaching, and is thankful to God for the complete rebuilding of our worship centre. 2007 saw the building of a hall and amenities, and the project was completed in 2019. A building which will assist in the spreading of the gospel for many years to come.